Home / Products / Bio-Based Succinic Acid
Bio-Based Succinic Acid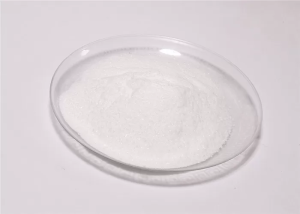 Specifications
| | |
| --- | --- |
| Item | Index |
| Appearance | White crystalline or powder, no visible impurities |
| Purity, w/%≥ | 99.5 |
| Moisture,w/%≤ | 0.5 |
| Iron,w/%≤ | 0.001 |
| Chloride,w/%≤ | 0.005 |
| Sulfate,w/%≤ | 0.03 |
| Residue on ignition,w/%≤ | 0.01 |
| Melting point, ℃ | 185~188 |
| Ease oxide, mL/g≤ | 0.5 |
| Pb,w/%≤ | 0.002 |
| As2O3,w/%≤ | 0.0002 |
Packing & Storage
| | |
| --- | --- |
| Packing | in 25kg bag |
| Storage | 20℃, 2 years. |
| Shipping | Room temperature in China; may vary elsewhere |
Free Quote
For samples, pricing, or more information, please call us at 0086-25-52397805 or mail to admin@maleic-anhydride.net or fill out the following form. We will respond to you as soon as possible.
Tel: 0086-25-52397805
Fax: 0086-25-51192304
E-mail: admin@maleic-anhydride.net
General Information
Chemical & Physical Information
Safety Information
Synthetic Route
Chemical & Physical Information
Common Names
Fumaric acid | 2 – butene diacid | anti – 1, 2 – ethylene dibasic acid | E – butylene acid
Structure
CAS No.
110-17-8
Boiling Point (℃)
355.5±25.0 °C
Molecular Weight
116.072
Melting Point (℃)
298-300 °C
Appearance
White powder
Vapor Specific Gravity
1.635
HS Code
2917190090
Flash Point (℃)
183.0±19.7 °C
Solubility
Soluble in alcohol, slightly soluble in water and ether
Autoignition Temperature (℃)
Safety Information
Safety Phrases
RIDADR
WGK Germany
Packaging Group
Hazard Class
SYMPTOMS
PREVENTION
FIRST AID
Inhalation
Cough. Sore throat.
Use local exhaust or breathing protection.
Fresh air, rest.
Skin
Redness. Burning sensation. Itching.
Protective gloves.
Remove contaminated clothes. Rinse and then wash skin with water and soap.
Eyes
Redness. Pain.
Wear safety goggles.
First rinse with plenty of water for several minutes (remove contact lenses if easily possible), then refer for medical attention.
Ingestion
Abdominal pain. Nausea. Vomiting.
Do not eat, drink, or smoke during work. Wash hands before eating.
Rinse mouth. Induce vomiting (ONLY IN CONSCIOUS PERSONS!). Refer for medical attention .
Biosuccinic acid was produced by biological fermentation
Frequently Asked Questions
Copyright © ASCENT PETROCHEM HOLDINGS CO., LIMITED, All Rights Reserved.